AGMA Learning
Face to Face Courses
These courses are held for 2 or 3 days each from 8:00 A.M.- 5:00 P.M. by experienced industry professionals. The number of CEUs awarded for each course is specific to the scheduled time for each course and the learning activities therein. Course assessments are conducted and certificates are awarded.
Epicyclic Gear Systems: Application, Design and Analysis - December 3-5, 2019

Learn and define the concept of epicyclic gearing is including some basic history and the differences among simple planetary gear systems, compound planetary gear systems and star drive gear systems. Cover concepts on the arrangement of the individual components including the carrier, sun, planet, ring and star gears and the rigid requirements for the system to perform properly. Critical factors such as load sharing among the planet or star gears, sequential loading, equal planet/star spacing, relations among the numbers of teeth on each element, calculation of the maximum and optimum number of planet/star gears for a specific system will be covered. Provides an in-depth discussion of the methodology by which noise and vibration may be optimized for such systems and load sharing guidelines for planet load sharing.

Fundamentals of Gear Design and Analysis - September 17-19, 2019

Gain a solid and fundamental understanding of gear geometry, types and arrangements, and design principles. Starting with the basic definitions of gears, conjugate motion, and the Laws of Gearing, learn the tools needed to understand the inter-relation and coordinated motion operating within gear pairs and multi-gear trains. Basic gear system design process and gear measurement and inspection techniques will also be explained. In addition, the fundamentals of understanding the step-wise process of working through the iterative design process required to generate a gear pair will be reviewed. Learn the steps and issues involved in design refinement and some manufacturing considerations. An explanation of basic gear measurement techniques, how measurement equipment and test machines implement these techniques, and how to interpret the results from these basic measurements will also be covered.

Gear Failure Analysis - November 6-8, 2019

Explore gear failure analysis in this hands-on seminar where students not only see slides of failed gears but can hold and examine those same field samples close up. Use of a microscope to examine field samples.
Search for Content by Category.
Coming up next!
Gear Failure Analysis
November 6-8, 2019
St. Louis, MO
2019 Education Catalog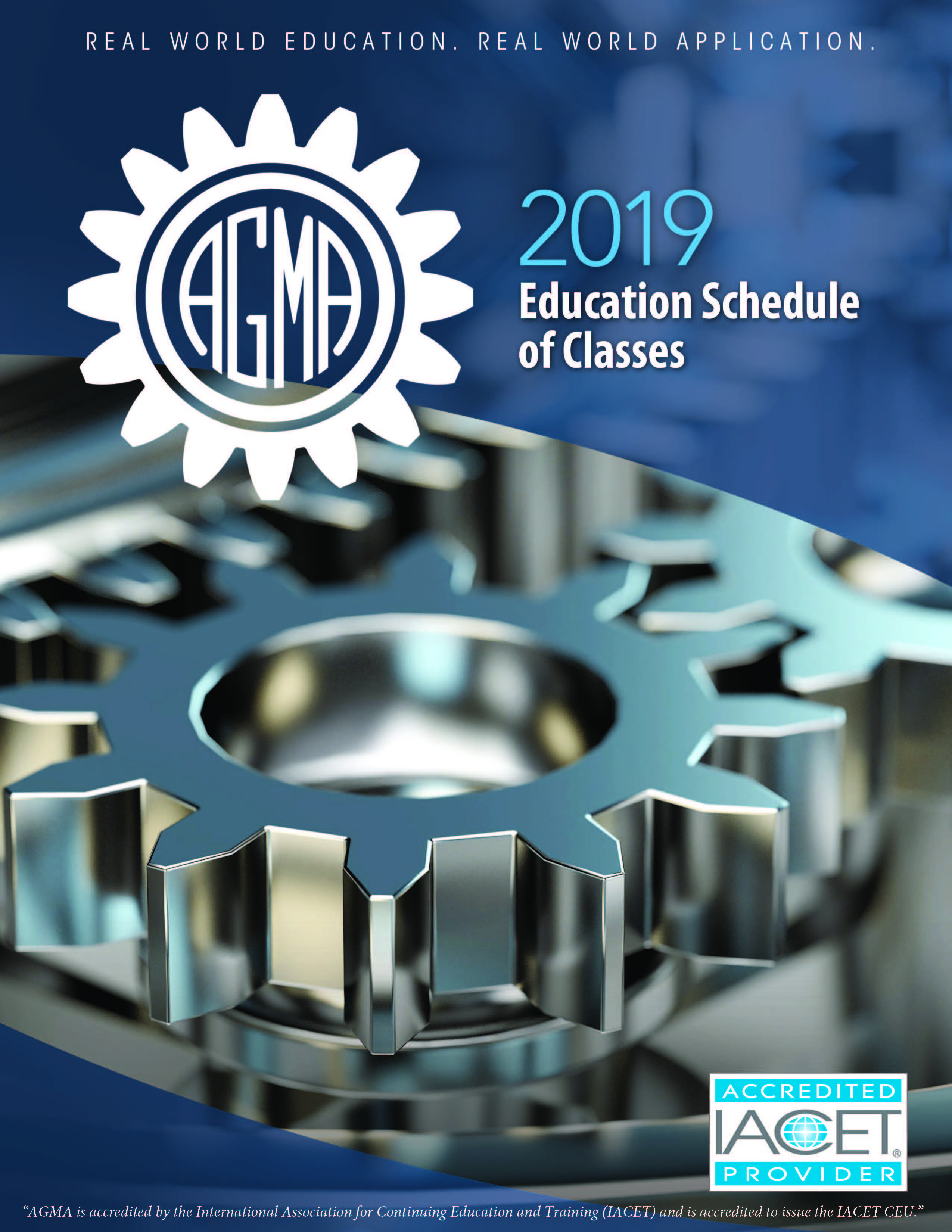 AGMA Intellectual Property
All education content is copyrighted by AGMA or AGMA Instructors. Reproduction beyond course use is strictly prohibited without the written consent of AGMA. If you have any questions regarding this statement, please contact Casandra Blassingame, Vice President, Education Services at blassingame@agma.org.
AGMA Foundation
The AGMA Education Department would like to thank the AGMA Foundation for its support. Several of the AGMA education courses in all formats have been made possible by the generous contributions by the Foundation. Our joint efforts to create and innovate results in membership added value for you!

For more information on the foundation and how you can contribute, please visit the foundation website at https://agmafoundation.org/.
Where do I find that?
Course Tabs:
Overview- Course Description and new announcements are found in this area.
Discussion - If available, join the discussion about the course with your colleagues.
Handouts - Course texts, study guides, handouts, agenda's (if applicable) and AGMA related materials are found in this area.
Content - The main course content is found in this area.